The NSF Graduate Research Fellowship Program provides recognition and support for outstanding graduate students in NSF-supported STEM disciplines. The GRFP selects recipients with great promise to achieve high levels of success in their future academic and professional endeavors. The Department of Chemistry is celebrating three NSF Graduate Research Fellowship awards and four honorable mentions in the 2020 competition. The Department of Chemistry is so proud of all the scholars who were recognized and all who applied!
The supportive research and outreach community at Emory underlies each successful proposal in different ways. Ahead of this year's competition, the NOBCChE @ Emory chapter hosted proposal and personal statement workshops for eligible students. Additionally, many of the students who were recognized are involved in outreach via Pi Alpha Chemical Society, AWIS, NOBCChE, and the NSF Center for Selective C-H Functionalization.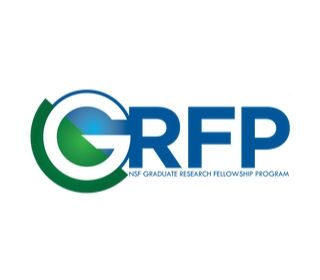 Ryan Allen
Honorable Mention
Wuest Group
Ryan is a second year graduate student in the Wuest Group. His proposed research intends to discover the mechanism of action of a natural product that kills bacteria and has been known for 62 years. By uncovering this mechanism, he hopes to identify new protein targets that can direct the next generation of antibiotics to new modes of action to avoid current resistance mechanisms. While completing his PhD, Ryan will also continue his current outreach activities with the Pi Alpha Chemistry Society and the Association for Women in Science by making science accessible to the broader Atlanta community, as well as bringing the Expanding Your Horizons conference to Atlanta to engage underrepresented middle and high school girls in STEM fields.
Tamra Blue
Honorable Mention
Lutz Group
Tamra is a second year graduate student in the Lutz Group. Her research proposal was centered around the mechcanistic exploration of a small subset of metalloenzymatic biocatalysts found within the old yellow enzyme superfamily that perform industrially and pharmaceutically relevant chemistries that are unique to the rest of the superfamily. Tamra's outreach work is focused on an undergraduate test prep program she has spear-headed through the Emory chapter of NOBCChE. In this program, chemistry graduate students provide one hour test prep sessions before each CHEM 150 exam to students who may not have the luxury of purchasing the services of an outside tutor. Tamra would like to thank her P.I. and labmates as well as all the tutors involved in the NOBCChE program. She would also like to thank all the people who proof read and edited drafts of the NSF-GFRP and all the people who continuously encouraged her to apply – "even though I was being stubborn."
Ordy Gnewou
Honorable Mention
Conticello Group
Ordy was born and raised in Cameroon. She earned her B.A. in chemistry from Lehman College (CUNY) before moving to Emory University to pursue the PhD. In the Conticello Group, Ordy is working on design and Cryo-EM characterization of alpha helical nanotubes. Ordy has been been involved in a number of student organizations since she started at Emory. She currently serves as the president of the Emory chapter of the National Organization for the Professional Advancement of Black Chemists and Chemical Engineers as well as the outreach chair of the Association for Women in Science. Outside of school, Ordy practices yoga – "it is the one thing that help to ground and center me."
Elliot Hicks
2020 NSF GRFP Awardee
Davies Group
Elliot Hicks is from Mercersburg, Pennsylvania, a small town in south-central Pennsylvania. He is a senior in Emory College with a double major in chemistry and German Studies. Elliot joined the Davies Group in September of 2017. In the summer of 2019, he traveled to Regensburg, Germany and Seoul, South Korea as part of an international research program through the NSF Center for Selective C-H Functionalization. Elliot's proposal outlines a method for performing cyclopropanation and C-H functionalization reactions using only blue light to circumvent the need for an expensive and sometimes toxic transition metal catalyst. Elliot's outreach activities are centered within programs at Emory. In his sophomore year, Elliot was a teaching assistant for an organic chemistry laboratory class. In his junior and senior years, he transitioned into the role of Learning Assistant for CHEM 150 and CHEM 202 classes. Elliot also served as secretary of the Emory Men's Club Soccer for almost three years, and organized the team's community service activities in the greater Atlanta area.
Michael Hollerbach
2020 NSF GRFP Awardee
Blakey Group
Michael is a second year graduate student in the Blakey Group working on new C–H functionalization methodology for applications to natural products. His proposed research strives to provide rapid access to interesting heterocycles without the need for extraneous directing groups. When not in the mountains fly-fishing, Michael enjoys helping with the outreach events available in the department through the NSF-CCHF, PACS, and AWIS. He particularly enjoys participating in judging of local science fairs and the wet-lab demos. Recently, Michael has been working with the volunteer coordinators at the Children's Hospital of Atlanta (CHOA) to set up hands-on experiments and chemistry demos for patients.
Diane Karloff
Honorable Mention
Heemstra Group
Diane Karloff is a second-year graduate student working in the Heemstra Group. She is interested in chemical biology questions related to RNA:small molecule interactions, and her research projects focus in particular on designing more effective RNA-targeted therapeutics, as well as tracking and modulating RNA biology in cells. For the past two years, Diane has also served as an outreach chair for the Emory NOBCChE chapter, where she enjoys working with the board to plan professional development and community engagement events aimed towards increasing diversity in STEM.
Thea Ornstein
2020 NSF GRFP Awardee
Salaita Group
Thea Ornstein is a first year Ph.D. candidate in the Salaita Group as part of The Wallace H. Coulter Department of Biomedical Engineering at Georgia Tech and Emory University. She completed her undergraduate studies at the University of Maryland College Park where she earned a B.S. in bioengineering and conducted undergraduate research under the mentorship of Dr. Kimberly Stroka in nuclear mechanobiology. In the Salaita Group, Thea will be conducting research focused on elucidating the mechanical and biochemical mechanisms responsible for stem cell heterogeneity during differentiation. She will harness single cell mechanics to develop tools to non-invasively sort stem cells. As part of the Emory community, Thea is involved in the EPiC program where she mentors high school seniors from South Atlanta public schools.