The NSF Graduate Research Fellowship Program provides recognition and support for outstanding graduate students in NSF-supported STEM disciplines. The GRFP selects recipients with great promise to achieve high levels of success in their future academic and professional endeavors. The Department of Chemistry is celebrating six NSF Research Fellowship awards and four honorable mentions in the 2021 competition. The Department of Chemistry is so proud of all the scholars who were recognized and all who applied!
The supportive research and outreach community at Emory underlies each successful proposal in different ways. Ahead of this year's competition, the NOBCChE @ Emory chapter hosted proposal and personal statement workshops for eligible students. Additionally, many of the students who were recognized are involved in outreach via Pi Alpha Chemical Society, AWIS, NOBCChE, 1915 Scholars, STEM Pathways, and ChEmory. We look forward to seeing what these scholars accomplish next.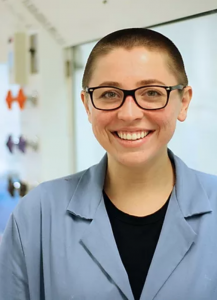 Anna Blood
Honorable Mention
Jui Group
Anna is a second year graduate student in the Jui Group. Her proposed research focuses on photocatalytic dearomatization for developing a general strategy to generate spatial complexity from aromatic precursors. The added dimensional complexity allows the simple, cheap starting materials to better interact with protein targets. Anna's outreach activities focus on helping undergraduates from small schools prepare for graduate school. She created a science outreach program, SCIENCE MENTORS, designed to form a mentor-mentee relationship between graduate student mentors and college students from small primarily undergraduate institutions. The program spans disciplines from chemistry, biology, and physics, and has reached students across the nation.
Taylor Dover
2021 NSF GRFP Awardee
EC '21
McDonald Group
Taylor Dover is a first-generation college student from Alabama, pursuing a Chemistry major and Mathematics minor. As an undergraduate researcher in the McDonald Group, he is developing strategies for the enantioselective synthesis of an important chiral precursor to a neuroprotectant therapeutic. Empowered by his own educational journey, he is passionate about ensuring equity in education, having served as a mentor for both the 1915 Scholars Program and the STEM Pathways Program. After graduating from Emory in May 2021, he plans to conduct graduate-level research which incorporates chemical synthesis techniques to tackle interdisciplinary challenges. Taylor plans to serve as a chemistry professor, a goal inspired by his service as a teaching assistant in several courses at Emory.
Angel Gonzalez-Valero
2021 NSF GRFP Awardee
EC '19
Lutz Group Alum
Angel was born and raised in Austin, TX and traveled to Emory University as a Questbridge scholar for his undergraduate studies. While at Emory, he was involved in numerous outreach activities as a Sophomore Advisor, a medical interpreter, a STEM Pathways mentor, and as President of Emory VMIS. As an undergraduate, he was a TA for organic chemistry for three years and was awarded TA of the year by the Department of Chemistry in 2019. He worked in the lab of Dr. Stefan Lutz developing a system for proteolytically-triggered shell assembly of encapsulin nanocompartments. He received a BS in Chemistry summa cum laude with a minor in French in 2019.
Angel is currently a second-year graduate student at the University of California, Berkeley pursuing a PhD in Chemistry/Chemical Biology. He joined the lab of Dr. Chris Chang in 2020 and his current studies focus on identifying functional methionine sites across the proteome using activity-based chemoproteomic methods. At Berkeley, he has been involved in mentoring undergraduate Latino/Hispanic students interested in STEM as a From Day One Fellow as well as mentoring first-year rotation students in the Chang lab. He currently teaches organic chemistry as a Graduate Student Instructor. Growing up, Angel was always inspired by the tireless work ethic his parents demonstrated as undocumented immigrants in the US. Upon receiving the NSF GRF, he repeats the same slogan his parents told him when times seemed insurmountable: "Sí se puede"
Meredith Hughes
Honorable Mention
EC '20
Jui Group Alum
Meredith is a first-year graduate student in the Yoon Group at UW-Madison. She is a recent Emory alum, graduating in May 2020. She conducted her undergraduate research in the Jui Group where she worked to develop a reductive photochemical dearomatization strategy. She loved her time in the Jui Group so much that she decided to pursue graduate research in photochemistry as well! She is currently working on net-oxidative transformations using copper and other first row transition metals. Her research proposal centered on the use of chiral alkynophilic co-catalysts to promote enantioselective cycloadditions via triplet energy transfer. She co-founded the Women in Chemistry Committee (WIC) at UW-Madison this fall and has utilized the pandemic driven "virtual reality" to develop a gender equity and inclusivity seminar series, whcih features external speakers from underrepresented backgrounds. Aside from chemistry, she enjoys running and her cats. She is very thankful to her mentors in the Jui group and her professors at Emory who helped her get involved in research and prepared her for graduate school.
Kendra Ireland
2021 NSF GRFP Awardee
Davis Group
Kendra is a second year graduate student in the Davis Group. Her work involves structurally characterizing catalytically relevant states of a heme-dependent human immunosuppressive enzyme to gain insights into its mechanistic pathway. She is also working to develop heme mimics to be used more broadly for structural characterization of transient intermediates in other heme enzymes. Before coming to Emory, Kendra obtained her B.S. in chemistry from Sam Houston State University, where she conducted research on heme-dependent cytochrome P450 enzymes under the guidance of Dr. Donovan Haines. Kendra is currently the VP of Outreach and Academic Affairs for PACS and has been involved in many outreach events through other student organizations such as NOBCChE, AWIS, and SEED.
Stacey Jones
2021 NSF GRFP Awardee
Davis Group
Stacey is a second-year graduate student in the Davis Group. His research proposal intends to elucidate the mechanism of B12-dependent radical SAM methyltransferases. As these enzymes are implicated in the biosynthesis of health-relevant antibiotics, he hopes to identify how they perform their RADICAL chemistry. He currently serves as the undergraduate liaison of the Emory chapter of the National Organization for the Professional Advancement of Black Chemists and Chemical Engineers (NOBCChE). He enjoys planning events aimed toward undergraduate success, community, and diversity in STEM.
Alice Long
Honorable Mention
EC '20
McDonald Group Alum
Alice Long, a co-op intern at GlaxoSmithKline, currently focuses her efforts on performing small molecule synthesis on-DNA with a diverse set of building blocks for machine learning applications. Alice earned a Bachelor's degree in chemistry from Emory University in 2020. During her time at Emory, she served as an undergraduate research assistant under Dr. McDonald on synthesizing mono- and di-substituted alkenyl diols to eventually develop a more efficient way of synthesizing a polycyclic ether core in natural products. During her time at Emory, Alice was treasurer of First-Generation and Low-Income Partnership (FLIP), a program aimed to bridge the gap between various socioeconomic classes and promote educational access. In addition to her passion for synthesis and method development, Alice hopes to start her own pharmaceutical company centered on synthesizing safer opioids and/or pain relief medications.
Kimberly Sharp
2021 NSF GRFP Awardee
EC '20
Blakey Group Alum
Kimberly Sharp graduated from Emory in December 2020 with a double major in Chemistry and Mathematics and highest honors. She joined the Blakey Lab in January of 2018, working on C-H functionalization methodology. As part of the NSF Center for Selective C-H Functionalization, she traveled to Daejeon, South Korea to work on a collaboration with Professor Mu-Hyun Baik's lab, doing computational chemistry. Kimberly's proposal focuses on utilizing machine learning techniques to overcome challenges in designing macrocycles with pharmaceutically appealing structural and functional characteristics, allowing them to be used on traditionally undruggable targets. Outside of the lab, she's been widely involved in the Emory community through her extracurriculars, from academic focuses such as outreach involvement with ChEmory and leading She's the First, a club focused on addressing global education inequality, to athletic endeavors such as competing as part of Emory's bhangra dance team and learning jiu jitsu though Emory's club team.
Camila Suarez
Honorable Mention
EC '21
Davies Group
Camila Suarez is a fourth-year chemistry major from Lima, Peru and Gwinnett County, Georgia. She conducts research in the Davies Group in the Emory Department of Chemistry. During her time at Emory, she has been most spirited about mentoring, research, DEI work, and philosophy. She is a current Spectrum Undergraduate Ambassador and a co-founder of SAFE (Student Advocacy for Full Engagement). Camila will be attending graduate school in the fall to pursue a Ph.D. in organic chemistry.
Julia Tanquary
2021 NSF GRFP Awardee
Dunham Group
Julia Tanquary is a second year graduate student in the Biochemistry, Cell and Developmental Biology program. In her research in the Dunham Group, she investigates the role of bacterial type II toxin-antitoxin complexes. Julia graduated from Eckerd College with a double major in Biology and Spanish. After graduating from Eckerd, she served as a Fulbright English Teaching Assistant in Argentina. She is passionate about education, specifically science education, and mentorship. She plans on continuing to work with Science ATL as well as local elementary schools to foster scientific literacy.
---
An earlier version of this article incorrectly omitted awardee Taylor Dover and, therefore, misstated the number of awards to Emory scholars as five instead of six. We regret the error. Congratulations, Taylor!