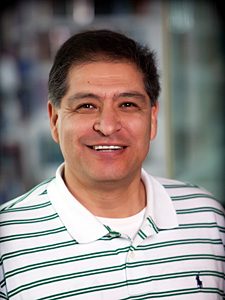 As Senior Lecturer for the Department of Chemistry, Dr. Jose Soria has taught lectures and laboratories ranging from introductory 100-level courses to 400-level advanced courses. His sees the classroom as a space for scientific discussion and the sharing of ideas, an approach which has been well-received by his students and undergraduate TAs. Dr. Soria's dedication to his student's and unique teaching style were recently recognized with the Emory Williams Distinguished Undergraduate Teaching Award. The award is given in recognition of a record of excellence in teaching, contributions to curriculum development in the awardee's academic discipline, and pedagogical innovation.
As a young child growing up in Mexico, Dr. Soria was curious about science. He recalls playing with fireworks and doing "experiments" with his neighbors during his grade school years before he even knew what chemistry was. In middle school chemistry courses, he was fascinated by the changing structures and properties of compounds. After taking his first laboratory class, he was totally captivated.
Dr. Soria earned his Bachelor's and Master's Degrees in chemistry from Universidad Nactional Atonoma before moving to the United States to pursue is doctorate degree here at Emory University. Following graduation, Dr. Soria opted to apply for his green card, allowing him to stay at Emory to complete a postdoc in the lab of Dr. Dennis Liotta. During this time, he became interested in teaching. He took a part-time position at a local two-year college where he could teach classes in the evenings. His experiences in the classroom lead him to apply for more permanent teaching positions, ultimately landing him back at Emory as a member of chemistry's lecture-track faculty.
"When I go into the classroom, I have a plan of what we are going to discuss, but the way that it is discussed is not planned. It is not rehearsed because each community, each group, is different."

Dr. Soria
His classroom now is based primarily on free-flowing discussions. He values creating a space that encourages students to speak up about their ideas, ask their questions, and grow as scientists together. Reflecting on an early experience during his teaching career, Dr. Soria explains that a group of minority students approached him and expressed their appreciation for the way he explained his research. That interaction influenced the way he continues to structures his class, with a focus on making the complex concepts more approachable through discussion and application.
"I think the thing that really stands out to me about Dr. Soria's teaching style is his dedication to mentoring his students."

Daniel Salgueiro, EC'18
"When I told him I was going to be applying for grad schools, he asked to meet up with me so that we could talk about the process, what I should look for in a school, what questions I should ask, and what kinds of programs would be the best fit for me," says recent chemistry graduate Daniel Salgueiro (EC'18, Blakey Group). "All in all, Dr. Soria is a very supportive and helpful professor, and I recommend all of his classes to anyone who asks me."
Dr. Soria's most recent undergraduate TAs, Eddy Ortega (EC'18, Liebeskind Group) and Nilang Shah (EC'18, Levin Group) also have wonderfully positive things to say about his teaching. "Dr. Soria values the environment of his class, the spirit of discussion, and teamwork," says Eddy. "He loves pushing students to achieve their full potential and promotes students to give concise and well thought answers," added Nilang.
Dr. Soria remembers seeing a colleague win the Williams Award twelve years ago and thinking "I want to be like him". He worked hard to build his credentials since then, developing the courses that are now so greatly appreciated by his students. Support for his ideas from chemistry chairs—five in his career, so far!—and collaboration with other faculty and staff have also contributed to his development. The supportive community has helped Dr. Soria during his ongoing project of building a supportive, and now award-winning, classroom.